What is a Doula?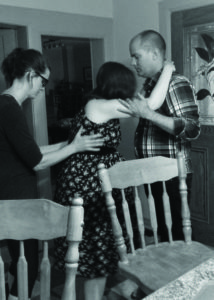 What is a doula?
A doula is someone who supports you through pregnancy, birth and during the postpartum period. Your doula will support you emotionally, physically and in helping answer any question you may have.
During pregnancy, a doula can help answer questions about what will happen during birth and how to prepare for the postpartum period. To prepare for birth your doula will go over possible comfort measures you can use during labour and discuss your preferences and options.
During birth, your doula will help you know your options as things progress and change and help you with different comfort techniques.
Bringing a new baby home is a big adjustment and for a while, it can be a very busy and tiring time. Having doula support to help you with aspects you may be having trouble with can feel very welcome. During the postpartum period, your doula can help answer questions you may have about breastfeeding, your baby and yourself.
There is research that proves that a woman giving birth with support, whether that is from their partner, other family members, friend or a doula, will have less risk of interventions and can lead to a better birth and a more positive experience overall.